Unfinished, but inspired. Functional, and gets the point across. One of my favorite projects.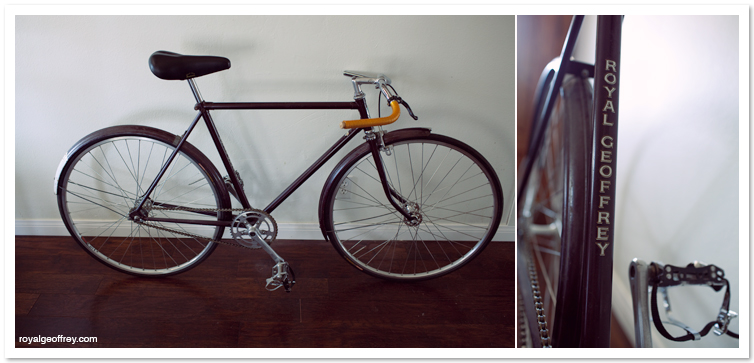 Here is what it would have looked like when I bought it, had it been taken good care of. Old English pedestrian bicycles put up an incredible fight. None of the bolts are quite English, or metric. Expect to spend more than a day on disassembly. The quality of the steel is incredibly poor. Helpful, since you'll need to bend the front fork and fenders to fit newer wheels.
Found a seat, some cheap pedals, new cages, old stem, and an affordable bottom bracket with cranks. Replaced fender hardware with brass stuff from Home Depot. Flipped the bars and wrapped the right side with orange tape, plugged with a wine cork from our wedding. Decided I hated the orange, so didn't bother to tape the other side. Brake is from a Schwinn Varsity; I couldn't believe it cleared the fender and landed right on the walls without modification.
Not a slouch to ride at all. Twenty-three pounds, and fast as hell.
By the way, this site isn't about bicycles.